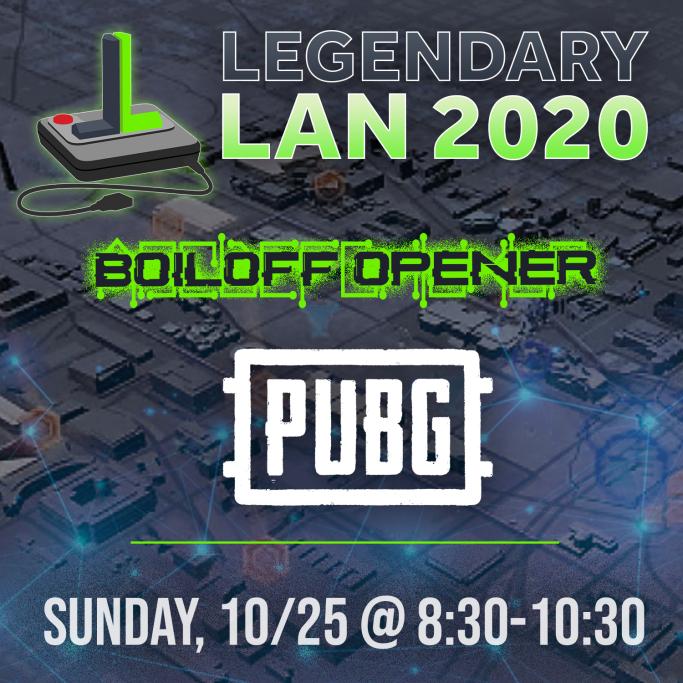 WHAT'S NEW THIS YEAR?
As has been the case over the past couple of years, there have been some changes to PUBG custom matches. We will use the Boiloff to try out a few new features:
Karakin! PUBG now has a much smaller 2km x 2km map for battle royale, which should be better suited to our player count for boiloffs and LLAN.
Boat-death race – Erangel version! Due to the boat shortage that we are currently seeing on Sanhok, we will be trying to a boat race on Erangel this year.
Team Deathmatch! This new mode will replace our traditional battle royale finals with a more lively 5v5 or 8v8 format to determine the boiloff and LLAN winners.
WHAT IS A PRE-LAN TOURNAMENT?
This coming Sunday, October 25 from 8:30 – 10:30 PM EST, we'll be holding our first of three pre-LAN tournaments leading up to the big day. As with all of our events, we'll be running things in such a way that newcomers to PUBG should have a blast (and have a chance at making it pretty far with some luck), as well as seasoned veterans. No need to be good at the game or have ever played before!
WHAT'S UP FOR GRABS?
Our top 3 finishers will be awarded 1 marathon point (for determining who ends up at champ on LAN day), and our top finisher will have their choice of an additional MP or a raffle ticket for swag at LAN. One random participant will also receive an extra raffle ticket for LAN day.
BE PATIENT WITH US! WE'RE ALWAYS LEARNING!
If the past two years have taught us anything, it is that the custom match system is constantly changing (and occasionally breaking). A tournament in boiloff format is one in which we hold a series of rounds, and eliminate players each round until one champion remains. Eliminated players can still participate, but will place an "X" in front of their name to signify they have been eliminated. There will be one "bonus round" by which a player can re-enter play.
HOW WILL THE TOURNAMENT BE RUN?
Here's the format we're planning:
Round 1: War-Mode [All players are "in"]
Pans Only
TPP
Teams of 8
First to a set score
Approx 10 minutes
[Eliminate bottom 4 on losing team]
Round 2: Battle Royale
4-man Squads
FPP
Balanced teams
Karakin, Default Settings
Approx 20 minutes
[Eliminate squad who dies first]
Round 3: War Mode: Conquest
Conquest: Two large teams face off on zone control
FPP
Approx 10 minutes
[Eliminate bottom 4 players on the losing team]
Round 4: Bonus Round: Boat Death Race!
Boats and Sea-doos
Erangal
Teams of 2
TPP
Shotguns, Winchesters, and Crossbows
Approx 25 minutes
[Winning team is back in!]
Round 5: War-Mode: Players Choice
Player vote between Snipers, Overpower and VSS kits
Squads
TPP
First to a set score
Approx 10 minutes
[Eliminate bottom 4 players]
Round 6: Team Deathmatch
Championship Round
Teams of 8
Remaining players split up and pick teams
FPP
Map: Miramar
Best of 3 rounds, first team to 2 rounds wins!