What is a pre-LAN tournament?
Each year before we all pile into one house for LAN, we hold a few tournament that are online-only. This coming Sunday, November 4 from 8:30 – 10:30 PM EST, we'll be holding our third of three pre-LAN tournaments leading up to the big day. As with all of our events, we'll be running things in such a way that newcomers to PUBG should have a blast (and have a chance at making it pretty far with some luck), as well as seasoned veterans. No need to be good at the game or have ever played before!
What's a "boiloff"?
A tournament in boiloff format is one in which we hold a series of rounds, and eliminate players each round until one champion remains. Eliminated players can still participate, but will place an "X" in front of their name to signify they have been eliminated. There will be one "bonus round" by which a player can re-enter play.
What's up for grabs?
Our top 3 finishers will be awarded 1 marathon point (for determining who ends up at champ on LAN day), and our top finisher will have their choice of an additional MP, one boiloff round immunity, or a raffle ticket for swag at LAN. One random participant will also receive an extra raffle ticket for LAN day.
We're tuning some things based on last time!
This will be our third attempt at PUBG in our signature "boiloff" format, and we'll be incorporating some of your feedback after our last couple trial runs. We plan to try a few new things again so please be patient with us if one of our crazy ideas isn't totally tuned yet! Here's some of the general things we've tweaked since last time:
Trying Conquest Mode (new PUBG custom mode just made available)
For warmode, Overpower kits & no "down" state
Championship round will be teams instead of solo
Continued minor tweaks to various settings
How will the tournament be run?
Here's the format we're planning, which assumes 24 players:
Round 1: War-Mode "Conquest"! [All players are "in"]
Map: Sanhok
Perspective: TPP
2 Platoons
Respawn 20 sec
Capture and hold control points on the map
Approx 10 minutes
[Eliminate bottom 4 on losing team]
Round 2: Battle Royale [19 players left]
Map: Erangel
Perspective: FPP
Solo
Balanced teams
Accelerated first circle
Approx 20 minutes
Centered First Circle
Esports Scoring
[Eliminate 4 with lowest score]
Round 3: War-Mode [14 players left]
Map: Training mode map (new!)
Overpower Kit
Perspective: FPP
4 Man Teams
First to a score of 80
Approx 10 minutes
[Eliminate bottom 4 players]
Bonus Round: Death Race!! [9 players left]
Map: Miramar
Perspective: TPP
Shotguns, Winchesters, Crossbows, and Cars only.
Those without an X = Form teams of 2 (player choice)
Those with an X = Form teams of 2 (player choice)
All players have 5 minutes to find guns, ammo, and a car and move to the start line
The team of "X"'s that makes it the furthest along the route, is "back in" the competition.
If a team (non-X's or X's) makes it across the finish line, you earn boiloff round immunity in the next round.
2 squads play blockade runners. If someone doesn't make it across the finish line, blockade runners earn immunity next round.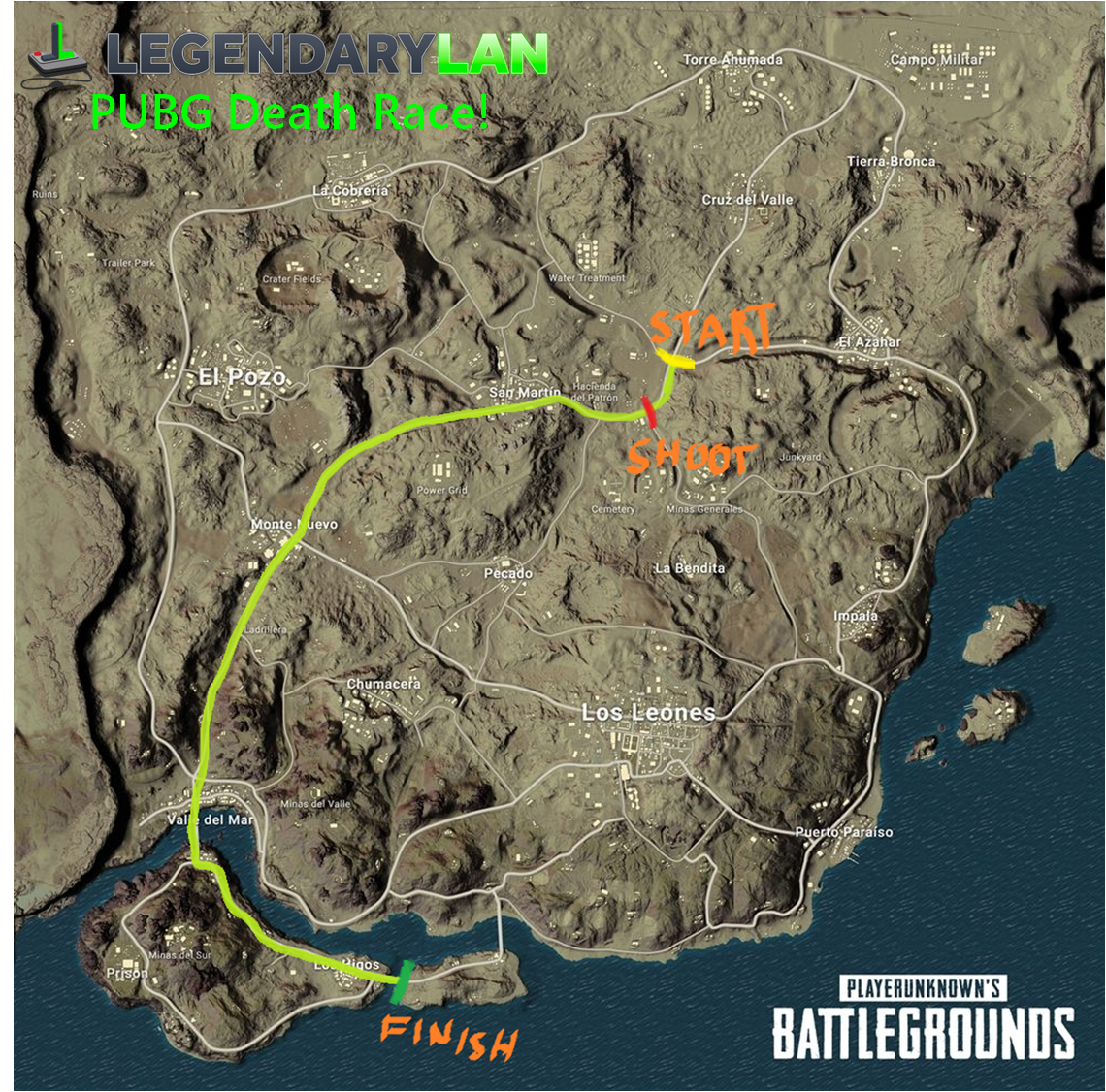 the
Round 5: Battle Royale – Mad Max Mode! [11 players left]
Map: Miramar
Perspective: TPP
Shotguns, Winchesters, Crossbows, and Cars only.
Teams of 8
Fast Circle, Centered first circle
[Eliminate bottom 5 non-X's on losing teams]
Round 6: Battle Royale [6 players left]
Championship Round
Perspective: FPP
Map: Sanhok
First circle centered
Remaining players are captains and draft teams in order based on finishing position in last map
Captain of the winning team wins the tournament!