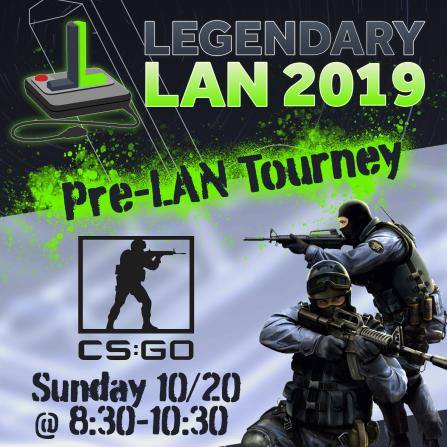 Boiloff Details
First round will begin promptly after 8:30 PM. Chat will be on the Legendary LAN Discord. After each round, the bottom player (or players) on the losing team will be marked for elimination. Eliminated players can still participate, but will place an "X" in front of their name to signify they have been eliminated. There will be one "bonus round" mid way through by which a player can re-enter play.
Our top 3 finishers will be awarded 1 marathon point (for determining who ends up at champ on LAN day), and our top finisher will have their choice of an additional MP or a raffle ticket for swag at LAN. One random participant will also receive an extra raffle ticket for LAN day.
Please download the map collection of custom maps prior to the boiloff to mitigate downloads/delays between rounds. Click here to open the map collection
Click here to connect to the server (launches CS:GO)
Round List
Specific rounds are based on a typical 15 player attendance. Actual map rounds and eliminations will be adjusted based on final number of attendees.
15 PLAYERS LEFT – ROUND 1: DE_WESTWOOD [PISTOL/SHOTTY ONLY]
14 PLAYERS LEFT – ROUND 2: DE_CACHE [DE CUSTOM]
12 PLAYERS LEFT – ROUND 3: CS_ITALY [DE]
10 PLAYERS LEFT – ROUND 4: AR_SHOOTS [DE GUNGAME]
9 PLAYERS LEFT – ROUND 5: SCOUTS_SKYLANDS_GT [CUSTOM – BONUS]
10 PLAYERS LEFT – ROUND 6: CS_INSERTION [DE CUSTOM]
8 PLAYERS LEFT – ROUND 7: DE_CONTRA [DE CUSTOM]
6 PLAYERS LEFT – ROUND 8: DE_CBBLE [DE]
4 PLAYERS LEFT – ROUND 9: DE_DUST2 [SINGLE]
3 PLAYERS LEFT – ROUND 10: DE_SCEPTER [SINGLE]
2 PLAYERS LEFT – ROUND 11: FINALISTS CHOICE [DRAFT 5V5]
1 CHAMPION