Legendary LAN 2019 has wrapped! Thanks to all who joined us. See you in 2020!
Event: Legendary LAN 2019 Created by Tycho
Join us for our annual LAN party - Legendary LAN 2019!

Don't game regularly? Not good at any of the latest games? Never been to a LAN party? That's ok! Legendary LAN is a LAN event with an emphasis on social interaction, fun for everyone, and a welcoming environment for newcomers.

Our goal is to create a truly legendary LAN party experience in the spirit of the golden age of LAN's.

Started on
November 15, 2019 7:00 pm
(America/New_York)
About
35 out of 40

Participants

Ladder

Tournament type

2508 BOGAR AVE, HARRISBURG, PA 17110-9407, UNITED STATES

Location

Please choose

Platform
Tournament details
Game

LAN Party

Contestants

Users

Game format

Best of 1

Tournament frequency

Yearly
Regulations
Promo Video Link: https://www.youtube.com/watch?v=6Parx0xnIEI

So What's a LAN Party Anyways?

In brief, a LAN Party is a gathering of people who all bring their computers, play video games together on a network, and eat nachos. The first thing people (usually parents or spouses) immediately ask is: Why would you want to do that? A computer is an expensive (and heavy) piece of precision electronics, one whose performance is negatively impacted by the accidental introduction of nacho cheese. But the fact is, a LAN Party is the most fun you can have with your machine.

You're Joking, Right?

No, really. Let's assume that you're a computer gamer and you're playing against somebody in a vicious game of deathmatch. You just lept out of a shadow, jumped down behind him, ducked an incoming rocket, and removed his head with a double-barreled shotgun. To celebrate your victory at a LAN party, you'd:
savor the expression of anguish on his face
high-five your teammates
sing a rousing chorus of, "Who's yo daddy?"
announce that he couldn't kill you if you were on life support
begin the smack talk for the inevitable rematch
Now let's assume you were at home alone playing on the Internet. You'd celebrate your amazing victory in the following ways:
Definition courtesy lanparty.com
Legendary LAN 2019 is November 15-16, 2019, 7PM - 7PM EST (24 hours)

The home of Matt Wurzberger, our venerable host!

2508 Bogar Ave, Harrisburg, PA 17110-9407, United States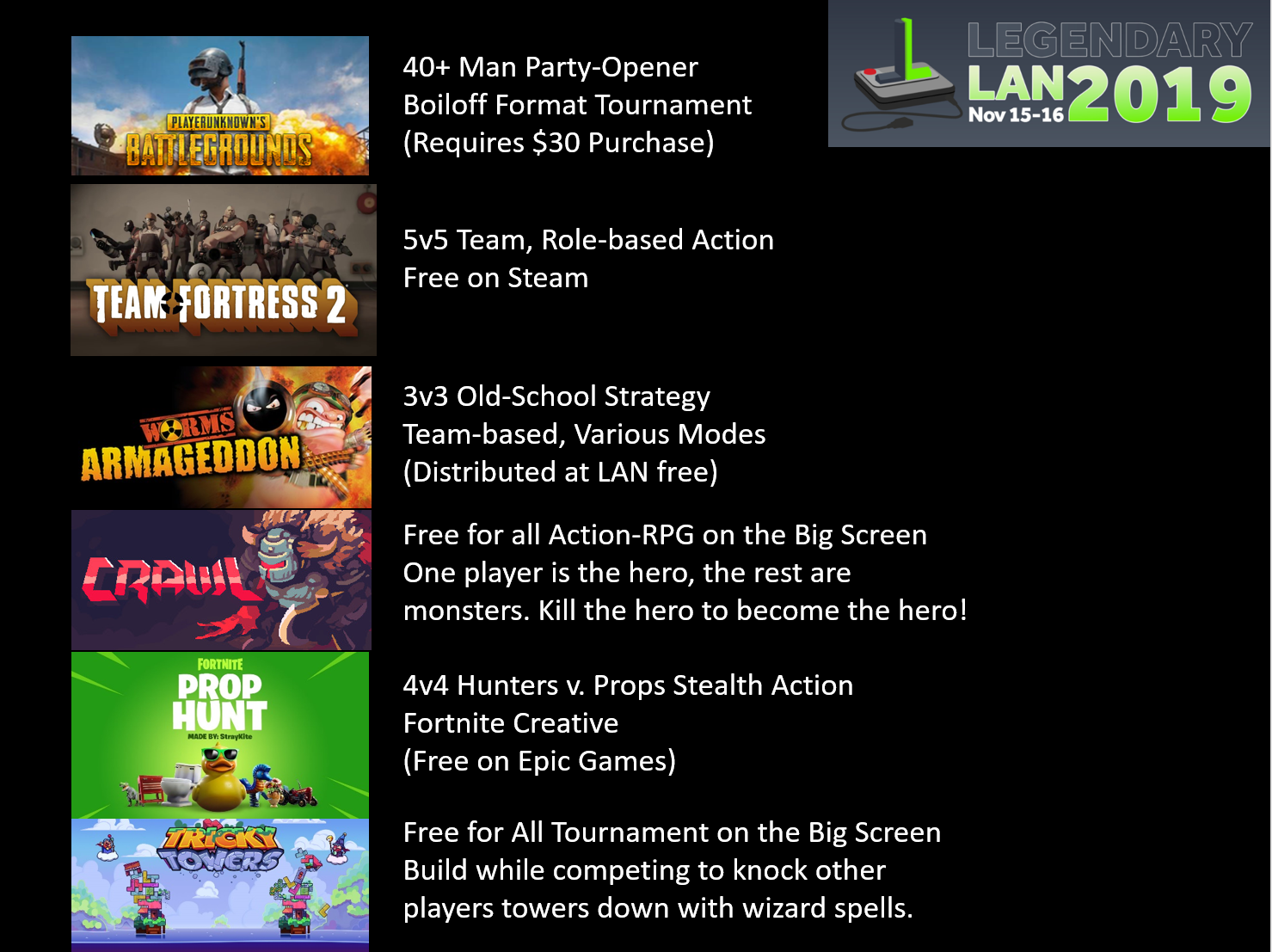 What you should bring:

A PC! (spares are available upon request if you do not own one capable of gaming)
A power strip.
Monitor (if over 34in, please clear it with the admins first)
Sleeping bag if you are staying the night
Toiletries - deodorant helps minimize nerd stink.
Any drinks (non-alcoholic ONLY) or food you want to have (some also available at LAN)
Your LAN fee if not pre-paid ($25)
Working headset with microphone
Mouse and keyboard
You can bring your own chair if you wish to game on home turf
What should I NOT bring?

Speakers - headsets only for sound please
Alcoholic beverages (some younger gamers attending), porn, drugs, hacks
How are prizes dolled out at LAN?

You must be present at the end of the LAN at around 7PM Saturday evening. At the end of the event, prizes from the swag table will be given out in the following manner:
Champion T-Shirt, Trophy + 1st Swag Pick: Our LAN Party Champion
2nd Swag Pick: 1st Raffle Drawing Winner
3rd Swag Pick: 2nd Place LAN Finalist
4th Swag Pick: 3rd Place LAN Finalist
5th Swag Pick: 2nd Raffle Drawing Winner
6th Swag Pick: 4th Place LAN Finalist
7th-10th Swag Picks: Tourney Winners (in order of point totals)
Remaining Swag Picks: Alternate point totals and random drawings.
SWAG list is TBD

Check back soon for the full schedule! LAN runs 24-hours from 7PM Friday through 7PM Saturday.
Winner Prizes
| Place | Reward |
| --- | --- |
| place 1 : | LAN Champion, 1st place Trophy, LAN Champion Shirt, 1st pick of prize pool |
| place 2 : | 2nd Place Trophy, 3rd Pick of Prize Pool |
| place 3 : | 3rd Place Trophy, 4th pick of prize pool |
Tournament brackets